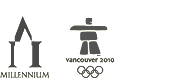 Millennium Southeast False Creek Properties Ltd.
Real Estate Development
tel: 604 688 2300
email: hq@millenniumdevelopment
www.millenniumdevelopment.com
Millennium Group is an award-winning Vancouver-based team of professionals and the developers for Millennium Water Olympic Village. They are renowned for the disciplined commitment to high quality architecture and luxurious design. At 1.4 million square feet, Millennium Water is the largest single-phase development in Canada. It is designed to be Canada's largest LEED Gold neighbourhood and a leading model of how to build a sustainable residential community.

City of Vancouver
tel: 604 873 7946
email: david.ramslie@vancouver.ca
www.vancouver.ca/sustainability
www.onedayvancouver.ca
The City of Vancouver prides itself as being one of the most liveable cities in the world. The City has now also adopted the target of being the "Greenest City" in the world by 2020. has received several awards for its various services and programs, including a United Nations (UN) award for Innovation in Public Service and being among the four inaugural cities invited to join the UN's Carbon Neutral Network. To further support these goals Vancouver has spent over a decade in conceiving, and now developing, the South East False Creek Olympic Village as a global model for sustainable urban development.

Metro-Can Construction (OV) Ltd.
General Contracting
tel: 604 583 1174
email: rgail@metrocanconstruction.com
www.metrocanconstruction.com
Metro-Can Construction is among the top 50 general contractors in Canada and the top five in British Columbia. Focusing on turning visions into buildings and delivering value to their clients, Metro-Can has completed over 280 institutional, commercial and multi-family residential projects. Since placing the first foundations on the Millennium Water Project in June 2007, Metro-Can has proceeded to construct 10 LEED Gold buildings incorporating 540 condominiums, 250 social housing units, 60,000 square feet of retail space and a LEED Platinum Community and Boating Centre.

ITC Construction Group
General Contracting
tel: 604 685 0111
email: mbakshi@itc-group.com
www.itc-group.com
ITC Construction Group has proven capabilities in multi-unit residential, commercial and social housing construction projects. Established in 1983, they have successfully completed over 100 projects for private developers and public initiatives in BC and Alberta. ITC is proud to be the General Contractor of the eight luxury waterfront towers at Millennium Water. These LEED Gold Certified structures consist of 315 condominiums and will be complemented by 13,619 square feet of commercial/retail space at the ground level. Quality Counts.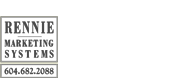 Rennie Marketing Systems
Condominium Pre-sales and Marketing
tel: 604 682 2088
email: info@rennie.com
www.rennie.com
Rennie Marketing Systems (RMS) proudly leads the sales and marketing campaign for the residential component of Millennium Water. Led by Bob Rennie, RMS works closely as 'Millennium's representative' to bring to market the most innovative sustainable community in North America. Maintaining the project's identity of environmental awareness, RMS utilizes eco-friendly elements throughout the marketing campaign. RMS marketing objectives extend beyond sales achievements and include increasing global awareness of a new standard of development.

Durante Kreuk Landscape Architects
Landscape Architectural Services
tel: 604 684 4611
email: peter@dkl.bc.ca
www.dkl.bc.ca
Durante Kreuk is an award-winning landscape architectural firm with over thirty years' experience in the private and public realms of design and development. A broad perspective and diverse thinking are the key to creating a wide range of sustainable, people-focused urban places. At Millennium Water, the unique challenge of creating a sustainable neighbourhood through an integrated design process was both complex and rewarding. The result speaks for itself.

Olympic International Inc.
HVAC and Building Automation Controls
tel: 604 986 1400
email: reception@olympicinternational.com
www.olympicinternational.com
Olympic International creates comfortable, healthy and energy-conscious indoor environments. As a manufacturers' representative, they are committed to bringing the world's most innovative and sustainable technology to local markets. The Millennium Water project utilizes radiant heating and cooling technology, which will substantially reduce energy consumption and system noise, increase available ceiling height and improve overall thermal comfort and indoor air quality.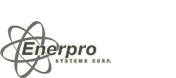 Enerpro Systems Corp.
Intelligent Integrated Energy Management Solutions
tel: 604 982 9155
email: info@enerprosystems.com
www.enerprosystems.com
Enerpro Systems Corp. are market leaders in intelligent energy management for new construction and infrastructure upgrades to existing buildings. Since 1996, BC's only customizable energy management programs have been providing no-cost, full-service solutions that maximize efficiencies in energy and water use, reduce consumption and provide numerous economic benefits. This groundbreaking innovation has spurred a series of firsts in energy management, such as the ability to view a real-time display of all energy and water consumption within 1,100 housing units at Millennium Water.

Keith Panel Systems
Architectural Rainscreen Wall System Manufacturer
tel: 604 987 4499
email: mail@keithpanel.com
www.keithpanel.com
Keith Panel Systems (KPS) is North America's leader in the design, manufacture and installation of Rainscreen wall systems. They are proud to be part of constructing Millennium Water. The wall systems installed by KPS will preserve the performance integrity of the exteriors, reduce the heating and cooling loads, provide an extended service life and are virtually maintenance free. Alucobond®, Swisspearl® and specialty glass are the quality exterior finish products featured on proprietary systems by KPS.

Wilco Landscape Westcoast Inc.
Civil and Landscape Constructors
tel: 604 507 4707
email: robmaat@wilco.ca
www.wilcowestcoast.ca
Wilco has become expert in the construction and delivery of built landscapes.Offering project management and landscape construction services for civil, parks and development projects, Wilco is a leader in successfully delivering complex projects to its clients. Wilco thrives on diversity and challenges and seeks out projects that require the depth of experience and knowledge that they have accumulated through the vast array of projects the company has built throughout BC and Western Canada.

VANOC
Vancouver Organizing Committee for the 2010 Olympic and Paralympic Winter Games
tel: 604 403 2085
email: mark_cutler@vancouver2010.com
www.vancouver2010.com
VANOC was established on September 30, 2003 with the vision of building a stronger Canada whose spirit is raised by its passion for sport, culture and sustainability. VANOC has been instrumental in driving the development process within a fixed timeframe, demanding extensive cooperation and synergies in accommodating the athletes within a residential market development.

Merrick Architecture
Architectural Services
tel: 604 683 4131
email: info@merrickarch.com
www.merrickarch.com
Merrick Architecture seeks to enhance our environment and our community through the design of people places. Their work embodies the values of humanity, cultural relevance, historic sensitivity and future opportunity. Merrick's contribution to Millennium Water extended from orchestrating the initial proposal submission, through management of the highly complex and dynamic integrated-design process, to design of three individual mixed-use development parcels (3, 6 and 10) to meet the most forward-thinking environmental design criteria.

Gomberoff Bell Lyon Architects Group
Architectural Services
tel: 604 736 1156
email: rforbes@gbl-arch.com
www.gbl-arch.com
GBL Architects have a longstanding history of providing innovative housing solutions to communities and neighbourhoods throughout the Vancouver Region. Their portfolio is the culmination of extensive research and dialogue on housing typologies, neighbourhood planning, and sustainable initiatives. At Millennium Water, GBL has extended its capabilities to fulfill a new design precedent for Vancouver, one that envisions a fully integrated neighbourhood, establishes vital living spaces, and embraces new precedents in energy conservation and resource stewardship.

VIA Architecture
Architecture and Urban Planning
tel: 604 683 1024
email: info@via-architecture.com
www.via-architecture.com
VIA Architecture works in the vortex where sustainable architecture, infrastructure, planning, and community building come together. Going beyond designing the "right building", we see the "right building in the right place" as being the necessary transformation of our urban world. SEFC exemplifies this mission, and VIA has been a proud team member in creating a place that will serve, inspire, and endure.

Cobalt Engineering LLP
Mechanical and Electrical Engineering
tel: 604 687 1800
email: info@cobaltengineering.com
www.cobaltengineering.com
Cobalt Engineering brings life to buildings. Adopting a holistic perspective, they offer fully integrated mechanical and electrical design services to deliver high performance building solutions for every project. Cobalt has provided numerous services for Millennium Water including master planning in the Pre-Design and Development Stage, facade design for all of the buildings, building energy modeling and LEED project management services for related mechanical credits.
BC Hydro
tel: 604 522 4713 or 1 866 522 4713 (elsewhere in B.C.)
email: luis.damy@bchydro.com
www.bchydro.com/powersmart
BC Hydro Power Smart New Construction Program provides financial incentives, resources and technical assistance to help developers of new commercial, institutional and multi-unit residential projects, to help reduce the cost of building energy efficient buildings.

Nemetz (S/A) & Associates Ltd.
Electrical Power System and Lighting Design
tel: 604 736 6562
email: david@nemetz.com
www.nemetz.com
Nemetz (S/A) & Associates Ltd. has been the source for electrical power system and lighting design for over 45 years. Major innovations contributed to the development at SEFC-Millennium Water include occupancy sensors & dimming control in common areas & lighting design provided for compact fluorescents & LED luminaries.

Keystone Environmental Ltd.
Environmental Engineering, Consulting and Protection Services
tel: 604 431 4729
email: dsmail@keystoneenviro.com
www.keystoneenviro.com
Keystone Environmental Ltd. provides the environmental insights and certainty required for the purchase/sale, permitting, and development of Brownfield and Greenfield properties. Keystone Environmental recognizes the need for innovation and entrepreneurship and have developed approaches that achieve cost savings to clients, most recently in the monitoring of site runoff during construction. At Millennium Water, Keystone Environmental demonstrated its expertise managing the excavation and disposal of nearly 250,000 m3 of soil in six months.

PacBlue Printing
Digital Printing and Reproduction
tel: 604 714 3288
email: jcolley@pacblueprinting.com
www.pacblueprinting.com
PacBlue Printing is a digital production facility providing a diverse array of equipment and services to meet any printing needs. With a commitment to be on the leading edge of technology, PacBlue is certified by the Forest Stewardship Council. With the strong belief that protecting the planet and its resources is critically important, PacBlue is proud to have worked with Merrick Architecture and Millennium Development in providing them with sustainable printing options on the SEFC Millennium Water project.

Sunproject Toro Inc.
Window Shades, Motorized Shades, Shades for Glazing
tel: 1 888 836 6980
email: sales@sunproject.com
www.sunproject.com

Storm Guard Water Treatment Inc.
Water Treatment Systems for Construction Sites
tel: 604 324 0089
email: stormguard@telus.net
www.stormguard.ca
Stormguard Water Treatment Inc provides water treatment solutions.  Our systems can treat concerns ranging from high turbidity, to pH concerns to hydrocarbon and metal discharge contaminants.  Development has increased dramatically in anticipation of Vancouver's 2010 Olympic Games.  Our performance record allowed us to partner with the Olympic Village development group.  We delivered consistently compliant discharge water throughout the duration of the project.

City of Vancouver Neighbourhood Energy Utility
tel: 604 871 6127
email: chris.baber@vancouver.ca
url: http://vancouver.ca/sustainability/building_neu.htm